Rick Drew
Master Building Surveyor
Rick has the expertise that allows Burnett Country Certifiers to issue building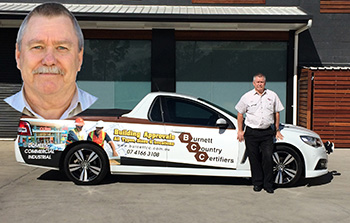 approvals on buildings and structures of any type or size and in any location. He started the practice in 2005 and has now been in the building industry for over 40 years. In that time he has obtained an unprecedented amount of experience and knowledge in a wide variety of aspects of the industry. This has been highly advantageous in achieving the degree of success he has in the building certification profession. Commencing his career in Quantity Surveying, Rick has also been –
a Director of a building company that still exists after 35 years;
a partner in a building supplies and hardware;
developer and proprietor of a brickworks;
Operations Manager for a national building company; a building contractor and Director of a construction company specializing in structural steel fabrication and construction of transportable school buildings for the State Government and industrial buildings for the private sector;
General Manager for a national home building company, which ultimately led to the ownership of a franchise;
4 1/2 years experience in local government as a building certifier.
The additional skills he gained in many of these positions includes extensive "hands on" experience that resulted in the capacity to undertake most trade work and interact well with on-site personnel, particularly in problem resolution.
In 2000, Rick decided to leave the main stream building industry to study law. Instead, he was convinced to study Building Surveying based on the premise that the years of building industry experience would be of untold value in this field. The interpretation and application of legislation is a major function of the profession. In relation to building certification, Rick's professional profile now includes the following -
Building Certifier - accredited and licensed as a Level 1 Private Building Surveyor
Master of Building Surveying
Bachelor of Building Surveying (with Distinction)
Advanced Diploma in Building Surveying
Awarded CQ University Australia/Australian Institute of Building Surveying prize for highest Grade Point Average on the first attempt for graduating student for both degrees
Senior Professional with the Royal Institute of Building Surveyors
Member of the Australian Institute of Building Surveyors
In addition to being a building certification practitioner, Rick was a member of the Faculty of Sciences, Engineering and Health as a casual lecturer in the area of the Built Environment at CQ University Australia from December 2006 to February 2011. The areas he lectured in were building legislation, performance based legislation and building infrastructure auditing. He found lecturing enjoyable and stimulating as a practicing building surveyor through the interaction with students, many of whom held restricted licenses and were studying toward their bachelor degree that would ultimately allow them to practice at the highest level. Other benefits included keeping up with the latest building legislation, codes and standards as well as the satisfaction of playing a part in the future development of the building surveying profession
Private building certification was introduced in 1998 to create competition in the regulation of building and construction work undertaken in Qld. Competition results in productivity and Rick takes pride in the high level of service Burnett Country Certifiers gives to its 1,000's of satisfied clients through competitive prices and rapid turnaround times from receipt of application to issue of approval.
Joanne Dowling
Personal Assistant Development Assessment
One of Jo's greatest attributes is that she understands that money does not just suddenly a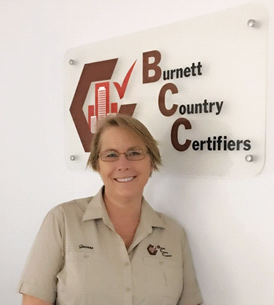 ppear and in small businesses it is essential the quality of staff input plays a major role in the success of the organisation and in turn provides security for them. Jo joined our organisation at the beginning of 2016 initially in the role of assisting in general administration procedures but due to her natural affinity to comprehend complex issues, building certification and town planning functions she soon became ideal for the role of Personal Assistant Development Assessment. Building regulation in Queensland is not a simple process as the boxes that have to be ticked before a building approval can be issued far exceed those that are required in other parts of Australia. Jo has turned out to be exceptional in her role as she has taken it upon herself to learn skills that far exceed ordinary administrative processes. Jo has grasped many of the numerous statutory provisions to be considered for the building approvals we issue, both for town planning compliance plus the numerous Codes, Standards, Local Laws and policies that a building application must comply with to be lawful.
In addition to the numerous technical issues Jo deals with, she has become a master of the unique computerised functions we use in processing building applications. The system we developed in house requires a unique set of skills for it to function properly and efficiently and Jo grasped these skills from the moment she commenced work with our organisation. She also has extremely good interpersonal skills that have worked well in the dealings she has with our clients as well as local authorities and other industry professionals we work with. Our clients think highly of her as she uses her extensive knowledge not only to assist them in preparing and submitting their building applications but can resolve applicant concerns about the private building certification process as well as ensure through her role that the time between submission of an application to issue of a building approval is kept to the minimum possible. Jo plays a major role in the success of our organisation through her ability to prioritise issues. We look forward to a long and mutually beneficial relationship as she is a highly valued member of our organisation.