Rick Drew
Master Building Surveyor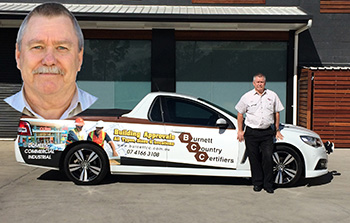 Rick has the expertise that allows Burnett Country Certifiers to issue building approvals on buildings and structures of any type or size and in any location. He started the practice in 2005 and has now been in the building industry for over 40 years. In that time he has obtained an unprecedented amount of experience and knowledge in a wide variety of aspects of the industry. This has been highly advantageous in achieving the degree of success he has in the building certification profession. Commencing his career in Quantity Surveying, Rick has also been –
a Director of a building company that still exists after 35 years;
a partner in a building supplies and hardware;
developer and proprietor of a brickworks;
Operations Manager for a national building company; a building contractor and Director of a construction company specializing in structural steel fabrication and construction of transportable school buildings for the State Government and industrial buildings for the private sector;
General Manager for a national home building company, which ultimately led to the ownership of a franchise;
4 1/2 years experience in local government as a building certifier.
The additional skills he gained in many of these positions includes extensive "hands on" experience that resulted in the capacity to undertake most trade work and interact well with on-site personnel, particularly in problem resolution.
In 2000, Rick decided to leave the main stream building industry to study law. Instead, he was convinced to study Building Surveying based on the premise that the years of building industry experience would be of untold value in this field. The interpretation and application of legislation is a major function of the profession. In relation to building certification, Rick's professional profile now includes the following -
Building Certifier - accredited and licensed as a Level 1 Private Building Surveyor
Master of Building Surveying
Bachelor of Building Surveying (with Distinction)
Advanced Diploma in Building Surveying
Awarded CQ University Australia/Australian Institute of Building Surveying prize for highest Grade Point Average on the first attempt for graduating student for both degrees
Senior Professional with the Royal Institute of Building Surveyors
Member of the Australian Institute of Building Surveyors
In addition to being a building certification practitioner, Rick was a member of the Faculty of Sciences, Engineering and Health as a casual lecturer in the area of the Built Environment at CQ University Australia from December 2006 to February 2011. The areas he lectured in were building legislation, performance based legislation and building infrastructure auditing. He found lecturing enjoyable and stimulating as a practicing building surveyor through the interaction with students, many of whom held restricted licenses and were studying toward their bachelor degree that would ultimately allow them to practice at the highest level. Other benefits included keeping up with the latest building legislation, codes and standards as well as the satisfaction of playing a part in the future development of the building surveying profession
Private building certification was introduced in 1998 to create competition in the regulation of building and construction work undertaken in Qld. Competition results in productivity and Rick takes pride in the high level of service Burnett Country Certifiers gives to its 1,000's of satisfied clients through competitive prices and rapid turnaround times from receipt of application to issue of approval.
Joanne Dowling
Personal Assistant Development Assessment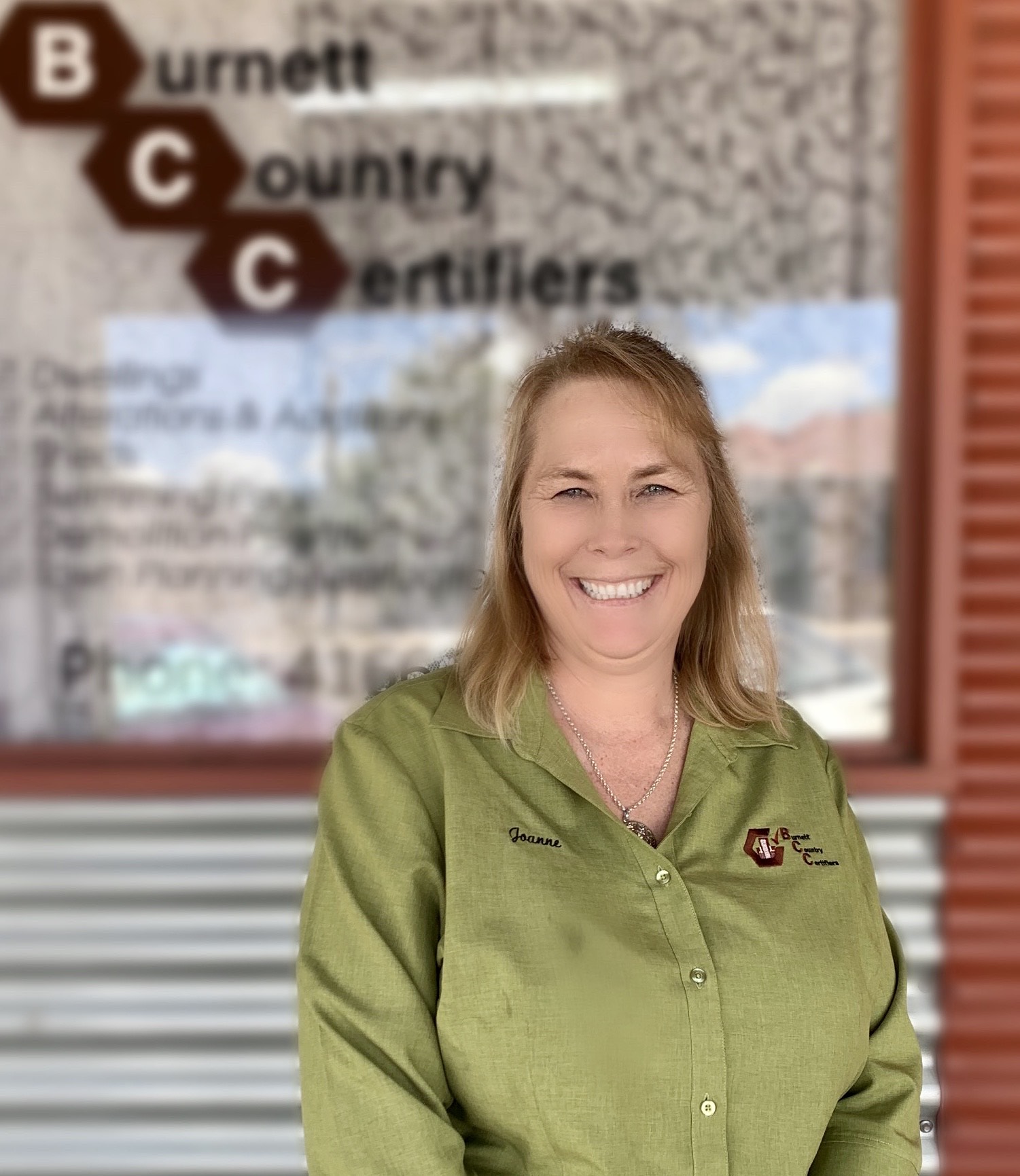 Jo commenced work with BCC at the beginning of 2016 and in 4 years has gone from an administrative assistant carrying out basic office duties to a highly regarded employee with an extensive knowledge in the field of development assessment. Her role is to provide assistance directly to the building certifier gathering all of the information necessary to be able to complete building assessments and issue building approvals for an extensive range of buildings. As part of her duties, Jo ensures that we receive all of the required information from our clients and checks that the proposed development complies with all local authority planning scheme and local law provisions including the benchmarks that must be achieved to comply with these statutory documents. She also determines if the building work needs additional approvals such as on site sewerage systems, concurrence agency referrals to Council for boundary relaxations and other compliance issues that are addressed under amenity and aesthetics, relocation of existing dwellings and the impact that an additional bedroom can have on an on-site sewerage system. Jo also carries out the necessary checks for compliance with other issues such as whether the development is located in a transport noise corridor, flood or bushfire affected area. These matters are of major importance when approving a building for construction because if they are not addressed at the approval stage, major rectification work to the point of the demolition and re-build of a structure may be necessary.
Understanding all of these provisions takes a highly skilled person capable of learning complex matters and undertaking quite extensive research. Jo is just such a person. Also, with all of her knowledge, our clients find her of great assistance in answering the myriad of questions they may have in relation to their building approval including what to provide as the common material required for an application. The Planning Act 2016 plays a major role in the development assessment process and Jo has been successful in getting her head around the provisions that determine the times permitted for each step of the process, how properly made referrals to local authorities are achieved as well as identifying all the statutory forms under the Act. From her dealings with approval documentation, Jo has been able to understand a number of building elements and systems that need to be considered and the consequences of not making sure the development complies with the assessment provisions of the Building Act 1975. In conclusion, Jo has played a major role in the success of our business and it is realistic to say that there are very few obstacles to her extending her capabilities to the maximum in building surveying if she chooses to.
Kaylee Allen
Administrative Assistant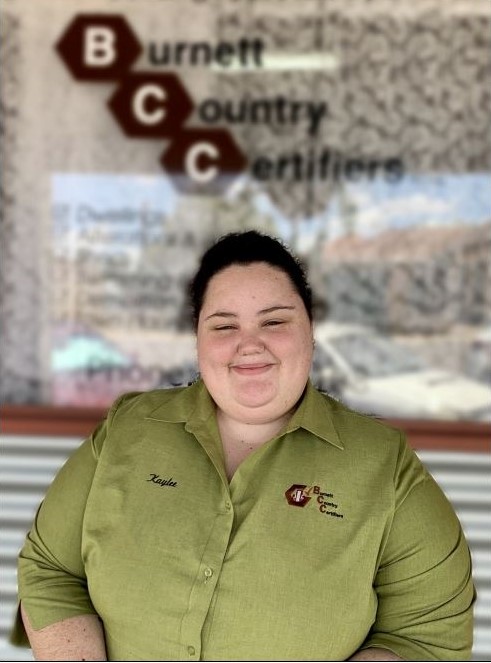 Kaylee has been with our company since January 2019. She came to us with no experience in the building industry. In the time she has been with us she has developed extensive knowledge in the processes of building regulation for development of all types. Kaylee spends an extensive amount of time on the phone with clients and potential clients explaining the application process and answering queries they may have in relation to the process. As a consequence she has expanded on the already excellent public relations skills she had before she joined our organisation. On receipt of development applications, Kaylee enters all of the relevant information into a database that we use to prepare statutory documents, issue building approvals and create inspection certificates during the construction process. In addition she carries out searches to obtain planning scheme reports, identifies transport and rail noise corridors and bushfire affected sites that impact on residential construction. After it has been determined there is a requirement, Kaylee also refers applications to local authorities for matters such as design and siting, amenity and aesthetics, building near Council infrastructure where approvals are required for aspects of the development that does not comply with Councils planning scheme, local laws and policies.
Kaylee also undertakes many other administrative functions for the business such as creation of our job files, filing, archiving, maintaining stationary levels and mail. She also issues inspection certificates after inspections have been carried out. She is also responsible for certain entries into the job files to record when the various activities have been undertaken that show compliance with the statutory provisions of the Building Act 1975. Kaylee has just the right disposition for her job and is always eager to learn. She has gone from no understanding of the development assessment process to quite knowledgeable in a very short period of time. She plays a very important role and the more she learns the more she will advance within our organisation and the more the organisation will advance.